About Us
ZZ Chrome Manufacturer Inc.
Polished Stainless Steel High Quality Interior Truck Trim Accessories And Product.
The people at ZZ Chrome Mfg has over twenty five years of combined experience in custom making show room polished Stainless Steel for big rigs, We are big enough to custom make any Stainless Steel order you need, and we are small enough to care, and we don't stop till are customers are satisfied. We custom make Stainless Steel for customers all over North America.
Our Showroom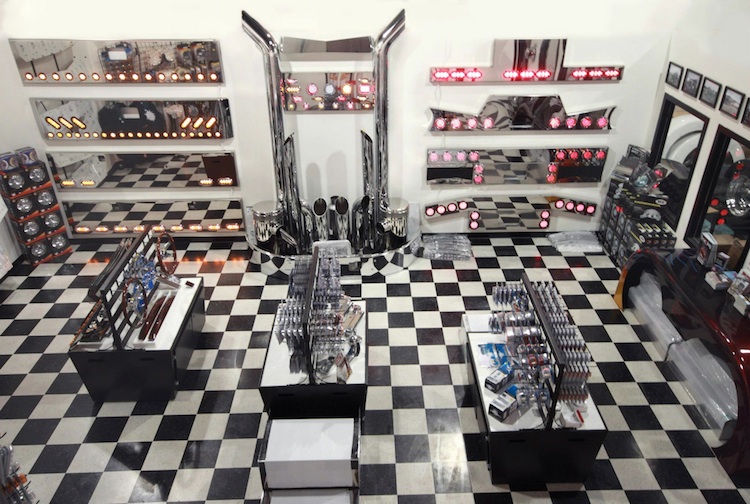 Custom Bumpers
Our custom bumpers set the industry standard in quality and workmanship. With endless possibilities you can create your very own bumper. You tell us what you want and we build it right here in our shop. Take a look at some of our custom built bumpers right here on our website under Products then click on Bumpers.
Aftermarket Visors
Our visors will keep the sun out of your eyes and your rig looking great. You can customize your visor with an assortment of lights. You pick the lights and we cut the holes.
Cab and Sleeper Panels
Customize your ride with our very own built cab and sleeper panels. You tell us what you want and we build them for you or we can order your choice of OEM panels.
We have a huge supply of all the things that make your rig your unique ride. You take great pride in your big rig ride and we take great pride in our work. When everything comes together, great things happen.
Special Orders

ZZ Chrome Mfg, will fabricate items not found on the regular product line as long as the items are within the capabilities of our tooling and equipment. Special orders may require a one time set up fee in addition to the per item cost. This set up may be waived for items that will become part of our regular product line.
All specifications for special orders are assumed to be correct. Customer\Dealer may make appointments for customers to bring their truck to ZZ Chrome Mfg facility for measurement of special order items. All special order items will be delivered and billed through the customer\dealer. Unless the customer has an approved credit account with ZZ Chrome Mfg.
Allow four to five weeks after full specification is provided and agreed upon for delivery of special order items. Special order items are not eligible for and do not count towards free freight.
Shipping Policy
All customers who wish to have a credit account with ZZ Chrome Mfg must complete a credit application. Upon approval by the credit department an account will be established. All orders will be shipped C.O.D. or cash in advance unless a credit account has been pre-established. Past due accounts are not eligible for free freight.
ZZ Chrome Mfg carefully inspects and packages all items that are shipped from our warehouse. Do not return damage merchandise. Save all damage cartons, packaging and merchandise. It is the responsibility of the recipient to inspect all packages prior to acceptance from the carrier. It is the responsibility of the carrier to pay for all items damaged during shipping as follows:
Visible loss or damage means any external evidence of loss or damage and must be noted on the freight bill or delivery receipt and signed by the carrier's agent, and a claim must be filed with the carrier. Failure to accurately describe external damage or loss may result in the carrier refusing to honour the claim.
Concealed lose or damage, means loss or damage, which does not become apparent until the merchandise has been unpacked. The damage is due to rough handling during shipment even though the package has no visible damage. Make a written request for inspection buy the carrier's agent immediately on the date of delivery and then file a claim with the carrier.
All damaged items paid for buy the carrier should be turned over to the carrier or destroyed. Items damaged during shipment are not to be resold and are not covered by warranty.
Limited Warranty
What is Covered This warranty covers all defects in materials and/or workmanship for any ZZ Chrome Mfg product, provided they are installed properly.Warranty Time Limit This warranty remains in force for six months from the date of purchase on all accessories manufactured by ZZ Chrome Mfg and 90 day's on non-accessories manufactured by ZZ Chrome Mfg.
Not Covered buy Warranty Lights, loss or damage due to improper installation, road hazard, fire, theft, collision and neglect or mistreatment like acid washes, which can effect affect the plating on chrome and discolour on stainless steel, are not covered buy this warranty. Items damaged during shipment are not covered buy this warranty.
Determines Liability Under This Warranty ZZ Chrome Mfg will inspect the parts and determine if they qualify for coverage according to the terms and limitations of the warranty.
ZZ Chrome Mfg will repair or replace any part found to be defective and ship them back to you with freight prepaid. Liability in all cases is limited to the original purchase price paid for the product.
Return Goods For Warranty Email: ZZ Chrome Mfg Inc, all items must have a (Returned Goods Authorization number). The Authorization Number is to be put on the out side of the carton prior to returning it to ZZ Chrome Mfg. All goods must receive prior approval. You must include a copy of the original invoice showing the price paid and proof of purchase date in the box with the item you are returning. Unauthorized returns will not be accepted.
We can give any Big Rig class with ZZ Chrome Mfg Stainless Steel Out Law Visor
E-mail order line: Order Product